Issue
How to obtain data from Washington State Dept of Transportation for Crash Magic
Explanation
Washington State DOT provides crash data for their agencies through a data portal. They have been very helpful in creating a specific format just for Crash Magic users.  Please follow the instructions below to obtain your crash data.
Solution
Link to the crash data request site at WADOT:
Navigate to: https://wsdot.mycusthelp.com/WEBAPP/_rs/(S(tvqptilghy4bafq2jmadz2bg))/SupportHome.aspx?sSessionID=7133211100SKOFYXERRUFLOLTZDCSILCUKRTKBBR
From the right side, select the "Public Disclosure Request" link.

Next, fill out the form online.
Fill out the records requested portion with the following information:
jurisdiction
date range requested
Pd Magic MRFF format
CSV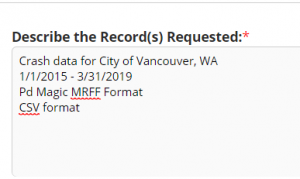 2. Choose the preferred method of Electronic via Request Center.
3. Next, say "yes" to requesting crash data.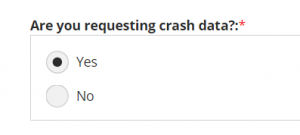 4. Check the box that you are not requesting data for any litigation against the state.

5. Fill in the next set of requested values: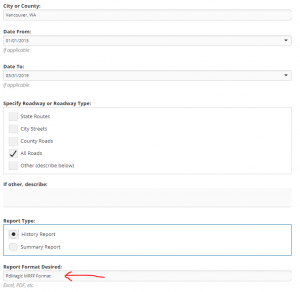 For the Report Type Requested, type in "PdMagic MRFF Format".  This will ensure that you receive the importable data format for Crash Magic.
You will receive an email when the request has been processed.  At that point you will return to the site and download the provided file from the "My Request Center" menu.
In order to import it, download it, then zip it. Upload the zipped file to the Crash Magic server.
Was this article helpful?
0 out Of 5 Stars
| | | |
| --- | --- | --- |
| 5 Stars | | 0% |
| 4 Stars | | 0% |
| 3 Stars | | 0% |
| 2 Stars | | 0% |
| 1 Stars | | 0% |