Obtain data from SWITRS – Califronia Highway Patrol
Issue
In California, crash data is available to agencies through the SWITRS data website. By following the steps included here, you can download files that are suitable for importing into Crash Magic.
Explanation
The instructions in this article are for obtaining data for Crash Magic from the SWITRS data website.
Important:  You will need to have created an account beforehand with SWITRS to get a username and password.  You can do that by going to the link below and requesting to Create An Account
Solution
You will be brought to a screen where you can login: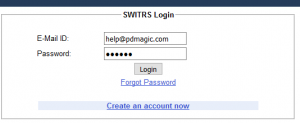 Next you will see the screen to choose the criteria for the data you wish to request.  On the left side, you will want to pick the Raw Data option.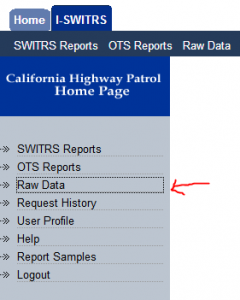 Then on the right side, you will fill in the rest of the information using the drop down boxes.  We recommend setting the Jurisdiction to "ALL", then choosing your location.  Then set the date range, and put check boxes to include the "Lat/Long" and "Header" information in the file.
Once you've finished filling out the criteria, click on the Generate Report button.  That's it!
You will then receive an email with a link for downloading the data.  The data will come as a zipped file, ready for importing into Crash Magic.
Note: Instructions for importing SWITRS data into Crash Magic are available at www.pdmagic.com/kb/ShowKBArticle.Cfm?ID=303
Was this article helpful?
0 out Of 5 Stars
| | | |
| --- | --- | --- |
| 5 Stars | | 0% |
| 4 Stars | | 0% |
| 3 Stars | | 0% |
| 2 Stars | | 0% |
| 1 Stars | | 0% |