Combining Diagrams or Studies OR Giving a list of case numbers to make a study
Issue
Sometimes you'll wish to combine intersections or studies to get a bigger view of an area. Or you might already have a list of case numbers you wish to do a study for.
Explanation
Solution
You'll need to have both studies already created in order to combine them into one.  Now create a new study, and choose the Case Id list option as the Type of study you wish to create.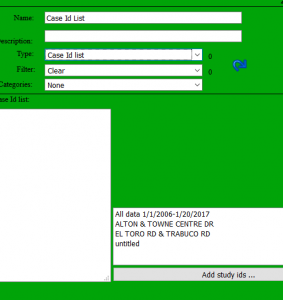 On the bottom right you have your studies listed.  Pick the first one you want combined, then hit the Add study ids button.  Then do the same with the second one.  All the case ids will be added to the list on the left.  Now you have a study combined and can create a diagram or report.
You can also just type or copy case id numbers into the left side for a study.  Fro more info on that you can watch a small "charm" video at :
Was this article helpful?
0 out Of 5 Stars
| | | |
| --- | --- | --- |
| 5 Stars | | 0% |
| 4 Stars | | 0% |
| 3 Stars | | 0% |
| 2 Stars | | 0% |
| 1 Stars | | 0% |