ODBC setup for virtual location.
Issue
In order to work with virtual locations, you will need to create an ODBC share and tables.
Explanation
Intersection Magic uses ODBC to access a database file to store information about your virtual locations. You must create an ODBC source and tables first before you can use virtual locations.
Solution
1. With Intersection Magic open, Select Utilities/Configuration/ODBC sources.
2. Click on the "ODBC Data sources" button. 
ODBC Data Sources Window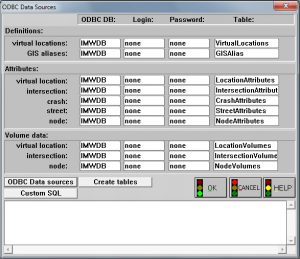 3. Click the "Add" button under the "User DSN" or "System DSN" tabs. System DSN makes the ODBC share available to everyone on the computer. While User DSN is only for the user you have logged in as. 
ODBC Data Source Admin Window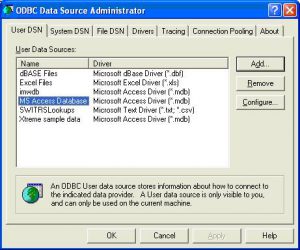 4. Select the "Microsoft Access Driver (*.mdb)" from the list, and click the "Finished" button.
5. Enter imwdb in the Data Source Name field of the ODBC Microsoft Access Setup window that opens. This will be the name of the link to the database.
6. Click on the create button and enter a name for your database in the New Database window. 
ODBC MS Access Setup Window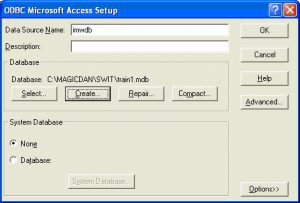 7. Click the OK button, and you should receive a message that the database was created successfully.
8. Click the OK button to return to the ODBC datasource administrator window, and Click OK to return to Intersection Magic.
9. Now click on the Create Tables button in the Intersection Magic ODBC Data sources window.
10. You should now receive a message saying "Created all tables and fields needed for Intersection Magic"
11. Click the OK button, and the OK button on the ODBC Data Sources window.
12. You should now be ready to create virtual locations.