How to get Intersection Magic keys
Issue
Intersection Magic keys have now been moved to the login section of the pdmagic website.
Explanation
Most versions of Intersection Magic require their own set of keys to function with user data. Without the correct keys a user can only open the demo database that ships with the program. Users that have purchased Intersection Magic are added to our web site, allowing them to login.  This article walks users through getting keys for Intersection Magic from our web site.
Solution
Here is how to obtain keys for Intersection Magic.
Click on the Login link near the bottom left corner of this web page.
Enter your email address and password to enter the site.

Users that have not logged in before can click on the "Forgot your password?" link and enter your password
If you receive "Email not found in database" contact Pd Programming to be added to your companies list of contacts

Once logged into the web site click on the IMW Keys link under the Quick Links section on the right side of the web page.
On the Request a Key page select your version of Intersection Magic from the top list box and click the Submit Query button.

You can find the version of Intersection Magic by opening Intersection Magic. The version will be displayed in the middle lower section of the main window.
IMW Version Information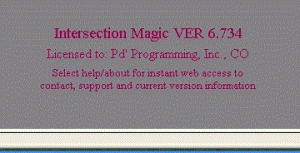 The Jurisdiction name and key that you have entered into Intersection Magic must exactly match the jurisdiction and key provided from the web site.
Some IT departments have locked the c:windows directory, and the registration information does not get saved. This will cause the program to inform you that the license and key do not match. In this case check the box labeled use centralized registration in the registration window of Intersection Magic. This will allow Intersection Magic to save the registration data in the install directory(c:magic).
User Centralized Registration Data